ADHOC
Hygiene has taken on a completely new meaning: in addition to keeping their distance, many people are also trying to avoid touching surfaces. And yet: whether it is opening doors, typing in a pin-number, pressing for a floor in the lift or pushing a bell-button – it isn't possible to do everything remotely and without contact. The hygienic solution to this problem is the SafetyTouch® from AdHoc.
This practical accessory from the AdHoc think tank enables you to operate switches and handles, touch-screens and keypads without having to touch them. The flexible and antibacterial material of the SafetyTouch®, which fits onto your index finger easily, ensures a good and secure grip, regardless of the application. While many other hygiene accessories are made from solid materials, the flexible SafetyTouch® also allows you to operate door handles or hold onto bars on public transport. With the help of the coloured cord at the end, the SafetyTouch® can be tightened firmly and doesn't fall off your finger unintentionally.
The SafetyTouch® demonstrates its high level of practical suitability with its chrome-plated metal case, into which the finger protection is inserted after use. This means the protective finger cover can be safely put away and transported without further touching. With its snap hook, it can also be stored outside your bag, so it is always within easy reach. The hook can also play the secondary role of keyring. This ensures that the SafetyTouch® is always on your person.
With the SafetyTouch® from AdHoc, the time for temporary solutions is over. Hygiene can now be stylish and casual.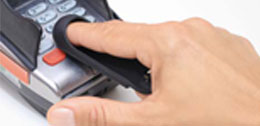 Featured news